Product Description
Hartmann Industries offers original T–shirt designs that are perfect for promoting your brand identity internally and making great gifts for employees and customers. Our designs include unlimited revisions, and we are able to make both front and back designs that range from simple to complex.
T–shirts are a great cost-effective way to get your business' name out there, and our designs are sure to make a lasting impression.
Ordering your custom t-shirt design from Hartmann Industries is quick and easy, and our team of design and branding experts are always available to answer any questions you may have. Our eCommerce ordering experience reduces the headache of purchasing graphic design services, so you can focus on what you do best – running your business!
Once you've placed your order, our team of expert designers will get to work creating your custom design. We'll work with you every step of the way to ensure you're happy with the final product, and we'll make unlimited revisions until you're completely satisfied.
Get started today and see how easy and affordable it is to promote your business with our custom T–shirt designs!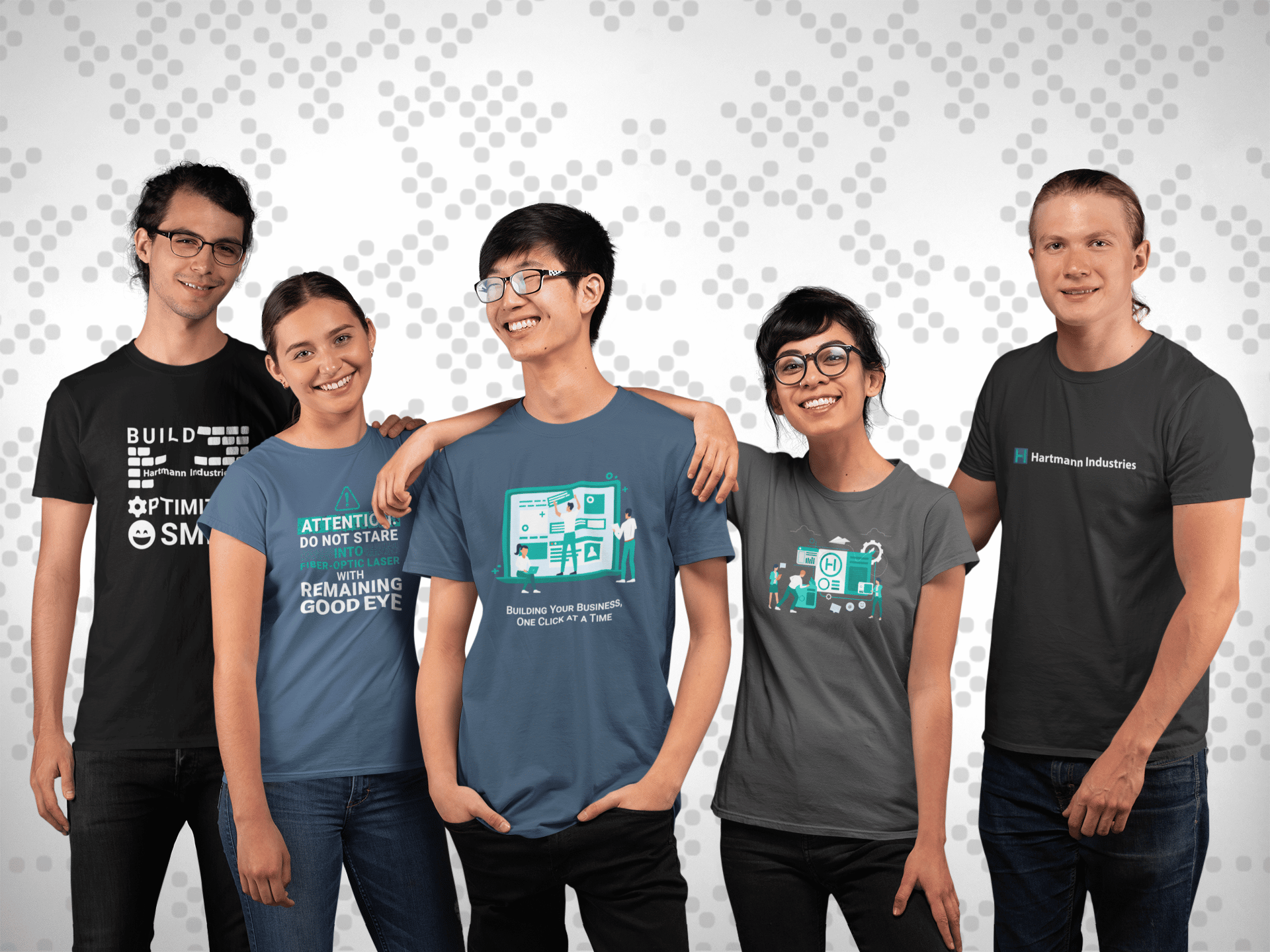 At Hartmann Industries, we make the process of creating custom T–shirt designs easy and affordable. We start by working with you to understand your brand identity and what you're looking to achieve with your design.
This process includes uploading your logo, style guides, and other branding assets. Once we have all of the necessary information, our team of expert designers will get to work creating your custom design.
It takes our design team up to 48 hours to create the first version of your design. This includes researching your industry, studying your competitors, and exploring design trends. After we've created the first version of your t-shirt design, we'll send it over to you for feedback. All Hartmann Industries graphic design services include unlimited revisions at no extra cost.
Once you're satisfied with the shirt design, our team will provide all source files (PDF and Adobe Illustrator) that are upload-ready to your preferred printer.